Skip to Content
Reliable Alternator and Starter Services
If your vehicle isn't starting, there's a possibility the alternator or the starter could be to blame. But how do you know which it is? At Tops Tire and Wheel in El Paso, TX, we offer complete assessments and inspections of cars that won't start to accurately diagnose the issue and fix it right the first time. While your vehicle relies on a few key features working together to get the engine cranked and running, an issue with just one of them will keep your car from starting up. Bring your vehicle to us, and we can quickly determine what the problem is and fix it to get you on your way.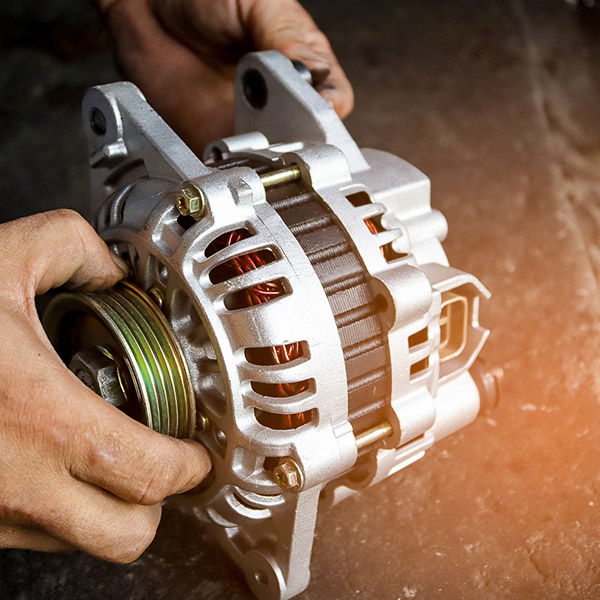 Does Your Starter or Alternator Need to Be Replaced?
Uncovering which of these components is giving you trouble requires a general understanding of what each one does. Does your car not start at all? Does it start after jumping the battery but won't start the next time you need it? These are the things our team of mechanics will consider determining why your car isn't starting. So, what are these parts responsible for?
The Starter – The starter is an electric motor that cranks the engine. Signs that your starter is failing include a vehicle that cranks slowly, one that won't start, interior lights that dim when you try to start the car, or any grinding noises when the car is attempting to start or is running.
The Alternator – The alternator's job is to charge the battery while the car is running so that the battery has enough power to start the car the next time you need it. If the alternator is bad, you will hear nothing but a "click" noise when you turn the key. You can jump the battery to give it the power to start the car. But if the alternator isn't charging it, the battery will be dead again the next time you try to turn the key.
Trusted Repairs and Replacements
The certified and trained technicians at Tops Tire and Wheel are committed to providing our customers with superior services to keep their vehicles running for as long as possible. If your car is not starting reliably, schedule an appointment with us today. We will diagnose the issue and provide a prompt repair with replacement parts designed specifically for your vehicle, backed by nationwide warranties. Schedule your service today.