Skip to Content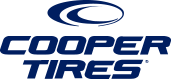 Cooper Tires – A Legacy of Quality
Since 1914, Cooper has been producing tires the American way, focusing on making the best quality tires designed for high performance and longevity. As a century-old company, the Cooper brand understands that tires play a crucial role in how your vehicle handles while keeping you safe on the road. That's why Cooper is committed to continuous product improvement and innovation, ensuring you have quality tires you can depend on. Tops Tire and Wheel in El Paso, TX carries a complete line of Cooper tires that strike the perfect balance between state-of-the-art ingenuity and sustainable value. If you're in need of a new set of tires, stop by one of our locations today, where we are committed to finding the right tires that match your individual driving needs.
Count on Cooper to Deliver Affordable Peace of Mind
Cooper has spent over a century perfecting the rubber-to-dollar ratio so today's drivers can get the most value out of their investment. This dedication to affordability allows Tops Tire and Wheel to offer our customers award-winning tires you can trust at a price that won't break the bank. All Cooper tires are backed by a standard or premium limited warranty for the ultimate peace of mind while on the road. Shop our full selection of Cooper tires, including:
Performance Tires
Passenger Tires
Light Truck Tires
Sport Utility Tires
Shop for Tires at Tops Tire and Wheel
Established in 1980, Tops Tire and Wheel has been El Paso's trusted source for the highest quality auto products and services. We are dedicated to providing every customer with uncompromising service and the utmost confidence knowing their tires are built to last. Our commitment to world-class customer service extends beyond the point of sale. Every purchase you make at Tops – from tires to auto service and repairs – comes with free around-the-clock roadside assistance. Give your vehicle the expert care it deserves. Contact us online or stop by one of our auto service centers today.